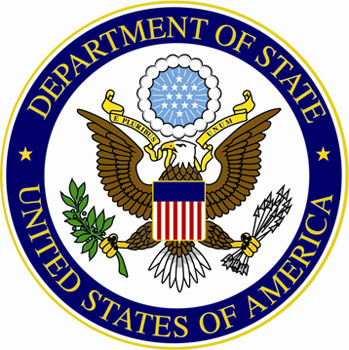 I had left my phone in the car to run inside and grab something and that's all it took for it to ring.
I checked my voicemail, and my blood ran cold.
"Hi, it's X from the United States of America Consulate…"
"OMIGOD," I immediately thought. "Who have I pissed off in America?! Who wants to sue me?!"
Thankfully, it was nothing of the sort and the very nice lady from the USA Consulates office was calling to invite me to a literary function.
Tom Healy, American author, poet, professor and chairman of the Fulbright Foreign Scholarship Board is in Australia for a two-week whirlwind tour and the consulates office was putting on a wine and cheese reception for him.
Of course, I called them straight back and accepted, but not before being told that the beautiful Alice Pung had passed on my number to them – Alice, you're amazing! Thank you!!
Obviously, as you do when you go to a consulate office – you freak out about what to wear!
I had an outfit that I had planned, but my sister told me it looked awful and messy and so she preceded to pull my wardrobe apart to find a more suitable option.
Of course, as it always goes, you end up wearing what you originally thought and so I went off in my 'awful and messy' dress. (For the record: tis neither awful or messy!)
I arrived half an hour early (as I always do) and sat in the car, beating my mobile at Monopoly.
I bought these insanely high platform heels to wear, and as I stumbled along the cobble stone, I was seriously regretting it.
I had no idea what anyone else would be wearing as there wasn't a dress code on the invite and I was dreading turning up either too dressed up, or not dressy enough.
"I'm packing myself," I announced to my sister via text as I walked from my car.
"Woot," was the reply. Then: "Did you drink my orange juice?" (For the record, it was my juice which I had offered her, she said she didn't want it so I said I'd drink it
)
Thanks, sis!
The moment it hit me wasn't when I was going through security: much like at an airport with those walk-through gate things and my purse going through the conveyor belt with the video of the contents.
It wasn't when a few other guys arrived and were talking about Lisa Dempster and her fantastic new role.
It wasn't when one of the reps came to collect us and usher us upstairs.
It was stepping out of the lift and seeing massive photos, framed on the wall, of Barack Obama and other American politicians.
Wow.
I mean, I've seen his face before (duh). Heard him speak on the news. Seen photos of him in the paper.
But this was real. Different.
We walked into the room and in one corner had one of those podium things where people make speeches.
On the left, the American flag. The right, the Australian flag.
And on it, the above logo.
It was quite an intimate affair with only about twenty people (plus a handful of staff members) but chock-full of wonderful people like Raimond Gaita, Paddy O'Reilly, Josephine Rowe and, of course, Alice.
And then there was Tom Healy.
Dignified, impeccably dressed, he strode into the room and everyone watched.
He shook hands with everyone, chatted and it was one of those moments where it was just amazing being in his presence.
We mingled for a little while before sitting down together. Alice and Josephine read some of their work, due to popular demand then so did Tom, and we chatted about education, poetry, and writing from your own life.
All to quickly it was over as Tom had to go to another function.
As I, once again, stumbled over the cobble stone back to my car, I realised that it was truly one of those once-in-a-lifetime things.
Thank you to the U.S Consulate General Melbourne for a fantastic evening, and I believe you can catch Tom today at RMIT talking about the Fulbright!
What's the best thing you've ever done?