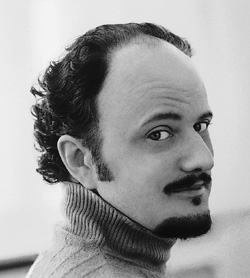 I have been extremely fortunate that I've been meeting all the authors who have written my favourite books over the past few years.
I have five top favourite books (they all swirl around the top equally; there is no specific order) - and when you consider one of those authors is deceased (Richard Yates), another hasn't put out a book this year and therefore unlikely to tour (Tom Perrotta) - I'm doing pretty damn well when I say can I've seen the other three in the flesh: Michael Cunningham, Liane Moriarty and now I can joyfully add Jeffrey Eugenides to that list.
It was a special event, a coat-tail ride-off from Sydney Writers Festival: 10 Writers, Five Double Bills.
Joshua Cody and Jeffrey Eugenides
It's nice to be surprised as a reader. You open the pages thinking you know how the story goes, but instead you're ambushed by an unexpected turn, or a narrator who usually stars in a different story altogether. In back-to-back events, we bring you two contemporary American writers who break taboos and rewrite conventions as naturally as they brush their teeth.
Composer Joshua Cody says he's not really a writer – but his raw, cerebral cancer memoir, [sic], suggests otherwise. The New York Times called it 'the memoir of the year' and praised the way its 'sentences swing into you like small, gleaming axes'. This is experience alchemised into literature, folding in sex, drugs, rock n roll… and cancer.
Jeffrey Eugenides is one of the most celebrated names in contemporary American literature. From the darkly hip, deceptively slender The Virgin Suicides to the sprawling, eccentric gender adventure Middlesex, he's known for tweaking convention. In his acclaimed latest novel, The Marriage Plot, he subverts the oldest convention in the book, delivering an end-of-the-millennium coming-of-age spiked with sly wit and Regency romance.
Jeffrey Eugenides will be in conversation with Michael Williams. Joshua Cody will be appearing with Chris Flynn.
Jeffrey Eugenides is presented in partnership with Melbourne Writers Festival.
I arrived late due to work, and hung around in the foyer waiting for the intermission.
I'd called last week and confirmed what time Eugenides would be on, as I didn't want to miss him, and luckily it was 8pm – more than enough time.
As I sat in the foyer waiting, about ten minutes before Cody finished, in walked Eugenides.
Dear reader, it took all my might not to rush up to him like a crazed fan and jump on him.
My good sense kept me in line, thankfully, as the various security people hovering probably would have been swift to act: and swift to kick me out.
8pm couldn't have rolled around fast enough, and finally, he was on.
Firstly, a shout-out to The Wheeler Centre Director Michael Williams, whom I always love hosting events. I love his combination of quick wit, intelligent questions and ease of conversation with the authors – so many hosts can come across awkward and stiled, but not Williams.
Notes I took:
Jokingly, his next book will be out in 2020 (play on the fact there's such long gaps between his books)
If you had of looked at his bookshelf in his university days, you'd have called his books pretentious
'Of course you take things from your own life and put them in your characters' – on being his characters
He had started another novel about a debutant ball, featuring the three main characters of The Marriage Plot, before he scrapped it, took the characters, and started another book
This happens quite a lot, and is partly the reason he takes so long between novels.
He doesn't start with ideas or themes when writing, he starts with a character and a problematic situation
'It's important to have the right name for a character,' he says, and continued on to say he can't write the character without the right name
He doesn't like books without senses of humour
'You write novels because you have a hard time making decisions,' so you describe both sides, he says. Williams had questioned him on The Marriage Plot, saying that although there were lots of ideas and theories in the book, Williams wasn't quite sure what Eugenides believed
He doesn't think you can write without reading
'Research sometimes gives you your plot,' he says, and describes that when researching Middlesex: 'Research really gave me the plot!'
He says that each book you write teaches you something for the next book
He said that by the end of Middlesex, he knew how to do characters: something that was lacking in The Virgin Suicides
The way The Virgin Suicides was written – from the outside, not in the girls minds or in their house – was on purpose as he couldn't write it
At 15 he wanted to become an actor, by 16, a writer
He likes being on book tour
'Being physically in another part of the world makes you feel different' – rather than just reading about it
As mentioned earlier, he is 'constantly starting things I don't finish' and he doesn't usually return to them
The nine year wait is also part experimentation
'In a way, I'm always writing the first book again' he says, as all three of his books are drastically different and unique
He says that he's 'not very good at it [writing]' and Williams laughed, asking how can that be when he has three almost perfect books under his belt!
'You often feel when you're writing, you feel like you don't know what you're doing,' he says
He has fond memories of Sofia Coppola, who directed and wrote the screenplay for the movie of his first novel, The Virgin Suicides
He said there were unavoidable changes that had to be made in order for the book to appear on screen, such as actually getting inside the Lisbon house
He said you are, 'Pleased less as a writer when they've chosen your book [to make a film/tv show]' but then they change it so much, as the case with his short story turned movie, 'Baster' into The Switch
In when he knows a story is finished: 'I know when something's finished when the more I work on it, the worse it gets'
His early readers include his editor, wife and a trusted friend – who was once the editor of The Paris Review
Eugenides' work can be broken down:
1 The Virgin Suicides: language/sentences
2 Middlesex: plot
3 The Marriage Plot: characters
Afterwards, I got my book signed and asked him about The Virgin Suicides, and about the comment he'd made earlier about not knowing how to write characters, ie not inside the sister's heads or their house. Would it have changed the book if he had of?
He said it would have been a completely different book, and the point of the book was not knowing what was going on, everything was about these boys, these men's, speculations.
He then gave me an unexpected piece of writing advice which I am definitely not going to repeat (it's mine, all mine, dammit!!!) but I will say this:
Thursday can't come fast enough.
Utterly amazing.