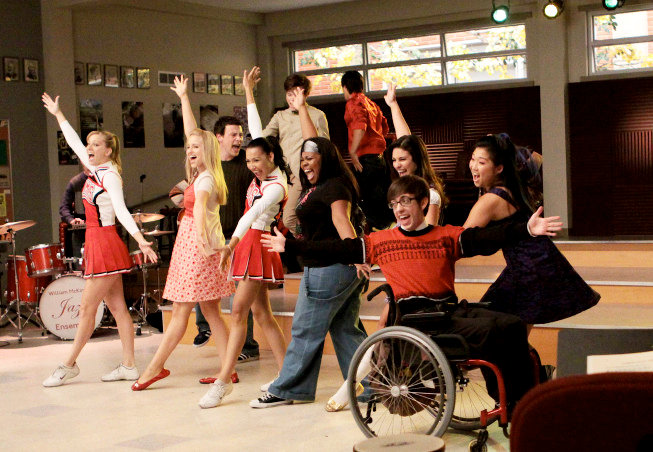 GLEE. GLEE. GLEE. GLEE. GLEE. GLEE. GLEE.
OHMIGOSH what an AWESOME final episode.
Lea Michele and Amber Riley just kills it, what pure amazing vocal talents those two ladies have.
God, everything about it was just awesome.
Well, some things were kinda annoying. Like when Eve's character didn't run after the judges. Come on! RUN woman, RUN! And also Rachel's GREAT performance of Don't Rain on my Parade. Yes it was amazing, yes she was flawless, but I was of the understanding it was the entire group singing, not just a solo… But anyway.
The end song was particularly awesome, and I loved the flash-back choreography to the old songs. And I do love Kelly.
Awesome!
In my post-Glee Googling, as I often do, I came across this fantastic review-thing, which has listed the Top 25 Glee Song Moments. What a comprehensive and fantastic list!
Also, if you happened to miss it, there's a six page essay summary/commentary of the episode. A worth-while read!
Also, I totally swooned at the ending. Awwww! It was so real and so everything I wanted it to be, I could completely relate to it and it was Just. Plain. Great.
On other more book-ish news, I started and finished reading Beach Babylon in twenty-four hours. Go me! And keep in mind, during that twelve hours, I slept and worked. Woo-hoo!
I love the Babylon books. I have Hotel Babylon, Beach Babylon and Air Babylon.
The books follow the same formula, which is we are taken in the day/week/month etc of a manager/similar of that particular field, such as hotels, air ports, or a designer (Fashion Babylon) or a wedding planner (Wedding Babylon).

Originally, I picked up Hotel Babylon because, at that point, I was all into hotels/wanting to run my own (trip to Alice Springs anyone? [Where I worked in a hotel, FYI]) and then I realised how awesome the rest of the series were.
And, of course, it helps that Beach Bablyon is about an exclusive Six Star beach resort (so ie much like a hotel, but with more sand and less taxis).
Tomorrow night is my Christmas break-up with my bookclub, and we read Mao's Last Dancer. And for the first time in about four meetings I've actually read the book (sorry guys!).
Hoorah and looking forward to that!
And today at the children's party shop I got a giant bottle of wine and some chocolates, yay!
So now I need a new pleasure book to read. Hmmm, any suggestions?
Anyway, I am going to head off – I have a very full day ahead of me tomorrow!
I have work at the Gift Shop all day, then I am getting a needle! *Gulps* I HATE needles *Looks around nervously* And then bookclub.
Argh!
Have a great night, and if I blog tomorrow it'll be around midnight, okay?